It only takes
One accident to start a fire
Provider of highest quality and advanced Fire Alarm and Fire Fighting Services along with Electronic Low Voltage Equipment in Qatar.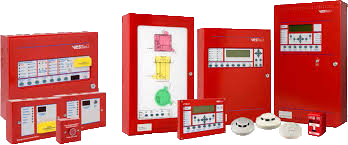 Regency Safety Services & Equipment is the sole distributor of

brand Fire Alarm, FM200 and Wet Chemical Fire Suppression Systems in Qatar.
We deploy highly advanced technology and equipment to emit signals in order to prevent fire outbreaks as early as possible.
Implementing automatic & manual systems recognized for their efficiency in preventing, controlling, extinguishing, containing and blocking fire in enclosed environment.
An effective approach of containing fire regardless of its location and height, as it disperses dry chemical systems to put out the fire in minimal time.
Synthetic / chemical fire suppression gas adequately extinguishes fire and contains its spreading.
A waterless fire suppressing system that eliminates spreading of fire. 
FM200 Room Integrity test allows us to determine the time frame for the fire suppressing agents to descend to a given level in the room without having to release the agent.
Wet Chemical Fire Suppression System
The wet chemical / foam agents work best in cooking environments as they coat the surface of oil, fat or other inflammable substances to contain as well as prevent re-ignition of fire. 
https://www.aafmq.com/wp-content/uploads/2020/09/21e2c2e1-95eb-47ea-989f-437860093601.mp4
We standardize safety services for our clients by providing exceptional assistance from the planning stage to final acceptance test monitoring.
Standardizing fire safety before anything ignites.
We would like you to see.
Learn more about us, our specialties, how we deliver the standards,incorporation of the latest technology available, our clients and much more. Get our corporate profile today.
Al Asmakh Facilities Management, a proud subordinate of Regency Group Holding and a leading Integrated Facilities Management Service provider in Qatar.

Facebook-f


Instagram


Twitter


Linkedin

Contact
Westbay, Doha, Qatar.
Office Opening Hours:
Sat – Thu 8am to 5pm
+974 4405 4155
info@aafmq.com
24/7 Help Desk 
+974 4412 1888
Quick links
Download Brochure
Download Profile
Careers
Terms & Conditions
Privacy Policy
Sitemap
Gallery
© 2021 All Rights Reserved. Al Asmakh Facilities Management