Work at one of the most prestigious companies in Qatar.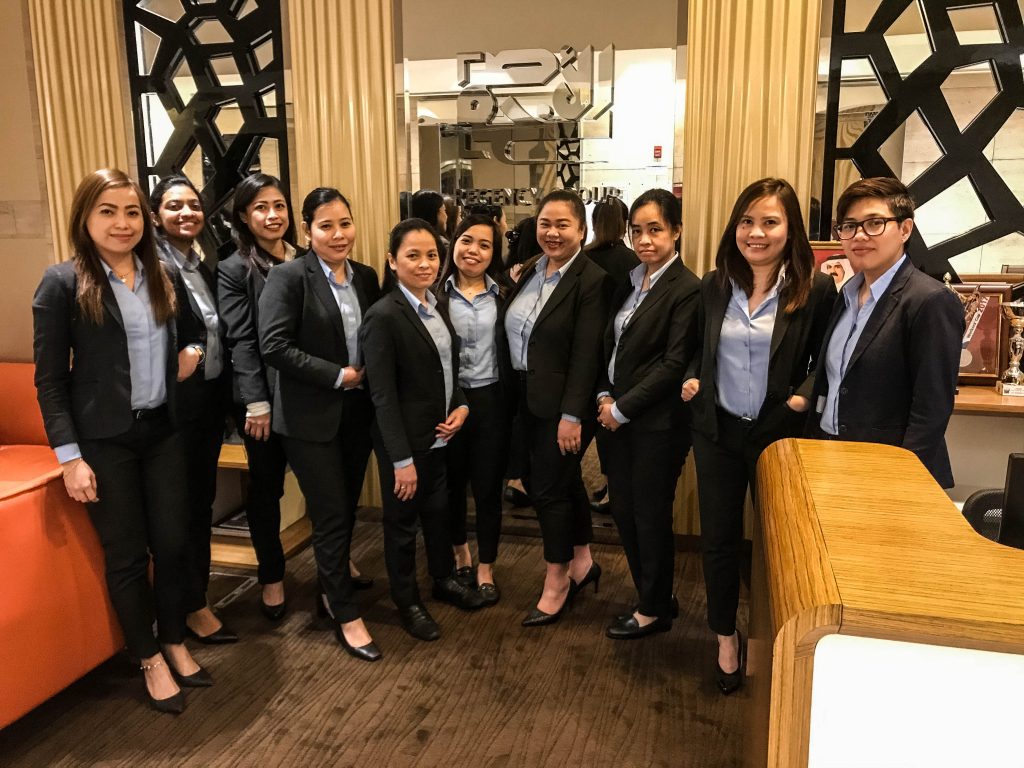 If you don't see a suitable opening for you, you can submit your resume to us so that we will contact you when there's a vacancy available.
Local Hire Only – Must Be Available in Qatar
Job Description:
– Handling RFPs to meet Client / Tender requirements.
– Compiling, arranging & submitting competitive technical and commercial proposals.
– Liaising with all departments to ensure tender proposals are prepared at the highest level of competitiveness, technical compliance and operational expertise.
– Maintaining standard technical documents.
– Contracts Administration.
– Continuous improvement of proposals and procedures.
– Developing bid cost estimates of integrated facility management services.
– Developing SOPs, method statements, cost models and estimation frameworks.
– Maintaining registers for tenders and contracts.

Requirements / Qualifications:
– 5+ years of experience in estimation, tendering & bidding.
– Experience in Facilities Management (hard & soft services).
– Past experience with a leading FM company is a plus.
– Contract administration experience.
– Mechanical / Electrical Engineering Degree is a plus.
– Experience in Qatar & Gulf.
– Availability in Qatar.
– High proficiency in Microsoft excel & office.
– Excellent English writing skills.
Local Hire Only – Must Be Available in Qatar
Al Asmakh Facilities Management is seeking a dynamic, hands-on Director of Operations to direct the functioning of its FM operations with emphasis on-hands-on multi-property management from residential and commercial as well as to create a safe and efficient work environment that boosts business performance and enhances staff productivity.
The role will include but not limit to managing hard and soft services, engage site surveys costing and site mobilizations, working closely with procurement on vendors and contractors, preparing facilities budgets, monitoring and coordinating variation civil works and refurbishment, ensuring compliance with Qatar's laws & regulations, coordinating relocations and negotiating lease or other agreements.
The ideal candidate will possess skills in managing operations and directing facilities functions that will assist Al Asmakh Facilities Management in creating integrated management solutions, minimizing disruptions to overall business operations, improving working conditions and creating a safer and comfortable environment for both staff and clients.
An outstanding Director of FM Operations should possess good communication skills, excellent organizational skills, broad knowledge of business function, and multi-disciplined project management experience. The candidate must understand the technical aspects of the property, support day to day business operations, ensure efficient operation of facilities, mitigate risk and ensure that facilities meet the needs of clients.
Responsibilities:
Overseeing contractors.
Handling security, cleaning, and catering.
Providing site support.
Coordinating routine maintenance and repairs.
Scheduling renovations.
Managing waste disposal.
Budgeting and estimating costs.
Designing and planning facilities layout.
Training staff on safety procedures.
Ensuring compliance with regulations and laws.
Requirements:
Degree in Facilities Management, Engineering
10+ Years of Multi-property FM Experience working with regional FM entities.
Strong interpersonal skills.
Excellent communication skills.
Project management experience.
Good knowledge of Qatar's Laws & Regulations.
Multitasking abilities.
Computer literacy.
Good problem-solving skills.
Highly organized.
Good negotiating skills.
We are looking for a Business Development Executive. The ideal candidate's responsibilities will include but not be limited to the following:
Job Requirements
Identifying, qualifying and securing external business opportunities and perform market research to determine new business leads and potential projects.
Penetrate to the external markets and generate new client data base.
Generate business opportunities by working with Customers and Channel partners to discover and explore opportunities.
Achieve assigned sales targets through developing business with new customers.
Maintain contact with all clients in the market area to ensure high levels of client satisfaction.
Contributes to sales engineering effectiveness by identifying short-term and long-range issues that must be addressed; providing information and commentary pertinent to deliberations; recommending options and courses of action; implementing directives.
Collaborating with management on sales goals, planning, and forecasting; maintaining short- and long-term business development plans.
Job Profile:
Masters / Bachelor's Degree Holder in Business Administration / Engineering & with relevant experience in sales and marketing.
Should have minimum 2 – 4 Year's Qatar experience in sales and marketing of Facilities Management and Security Services.
Candidate should be able to speak and write ARABIC.
Candidate should have valid Qatar driving license.
Regency Safety Services & Equipment are looking for experienced  dynamic BMS Operators who pride themselves on being able to deliver high levels of service.
Objective
As a BMS Operator you are responsible to supervise and control the operation of the building management system and monitor all plant activities of the headquarters building services, whereby your role will include key responsibilities.
Provide the maintenance supervisor with planned preventive maintenance (PPM) schedules for implementation and handle the follow up on the same




Analyze the behavior of the plants with respect to the set point and setting up the various control parameters




Perform daily auditing of plant performance by utilizing the facilities built on the building management system (BMS) e.g. data logging, plant review, alarm manager status, etc.




Analyze reasons of failure of plants and provides specific diagnostic, problem analysis and specify the necessary remedial actions for Supervisor's approval




Use the historical logged data of various plants to review the system and propose improvements in order to enhance the system efficiency and / or reduce the operation cost as well as improve the services provided to customer




Program the BMS and PPM system and other plants (e.g. standby power generator, diesel driven fire fighting pump, fire alarm system, etc.) for automatic periodic testing
© 2020 All Rights Reserved. Al Asmakh Facilities Management